Unreveal The Secret To A Perfect Diwali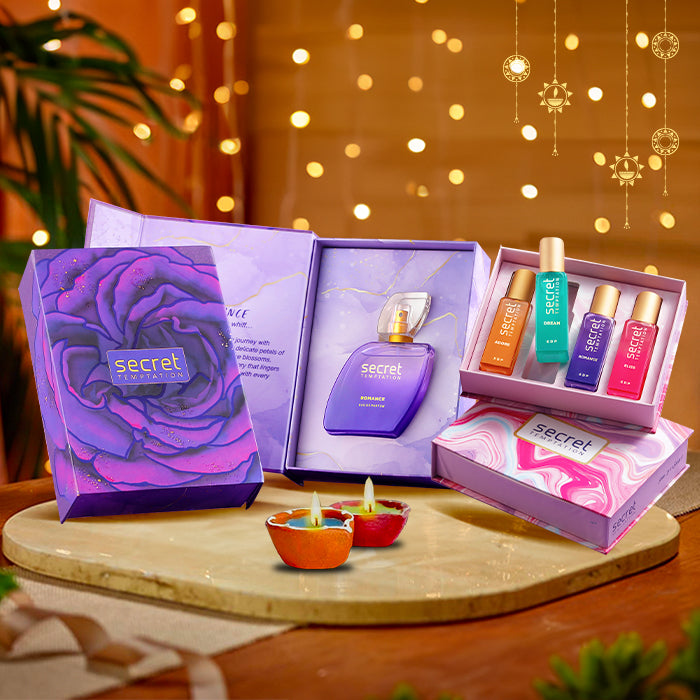 It's time to create a Diwali look that is adored by all. But before that, are you through with all the preps your skin needs for the festive season? Have you decided on the hairstyle you want to carry with your much-loved and hyped Diwali dress? While you choose to pamper your skin and hair amidst all the endless festive preparations, do not forget to add that secret element that will complete your Diwali look.
The secret detail that will make you Diwali-ready is the enticing fragrance by Secret Temptation. While you can use these fragrances to enhance your Diwali look, these fragrances also double up as an excellent gift for your loved ones.
Roll-on Festive Vibes Gift Set
A roll-on set of four perfumes named Love, Cuddle, Stardust, and Blossom, this pack can be a perfect Diwali gift for your girlfriends. It's a tremendous self-care product for women. These fragrances come in convenient and easy-to-carry sizes. Created to keep you fresh throughout the day, these perfumes are effortless for application. Enjoy two complimentary diyas with this Diwali gift.
Dreamy Diwali Gift Set
This lovely Diwali gift pack for women has three unique travel-friendly fragrances named Adore, Dream, and Romance. Since this pack has been curated for the Festival of Lights, it has two complimentary diyas. These elegant fragrances are long-lasting and can make heads turn as you pass by. Any woman will appreciate a gift like this.
Dazzling Diwali Gift Set
Shine your way this festive season with these self-care products for women. This is a specially curated gift set for Diwali, including Daisy, Jazz, and Ruby perfumes, each in 30ml bottles and two diyas. The fruity fragrance of Daisy, the charisma of Ruby, and the lingering jasmine and musk fragrances in Jazz make it a complete package for gifting and self-use.
Diwali Mini Marvels Collection Pack
Specially curated for Diwali, this mini marvel collection has four amazing perfumes for women named Bliss, Romance, Dream, and Adore. These captivating fragrances linger on for hours and exude enticing notes. A perfect Diwali gift pack for women, this pack is an excellent option if you are confused about what to give your best friend during the festive season. It also comes with two complimentary diyas.
Fresh & Fab Diwali Gift Pack
Unwrap this specially curated Diwali gift pack for four refreshing deodorants named Pink, Romance, Mystery, and Passion. These versatile and long-lasting floral fragrances will keep you refreshed throughout the day. Get it for yourself or the dear women in your life.
Festive Roll-On Gift for Her
It's a pack with three deodorant roll-ons named Active Lifestyle, Brightening, and Talc effect and two complimentary diyas. It is something you can depend on for the festive season gifting. This Secret Temptation gift pack for women is an excellent product for everyday use as it has anti-odour properties that work for 48 hours. Gentle on the skin, these roll-ons have no alcohol and can befriend your skin from the first use.
Make this festive season remarkable with these Secret Temptation Diwali gifts for women!