Travel Kit Essentials: Best Deodorants and Roll-Ons For Women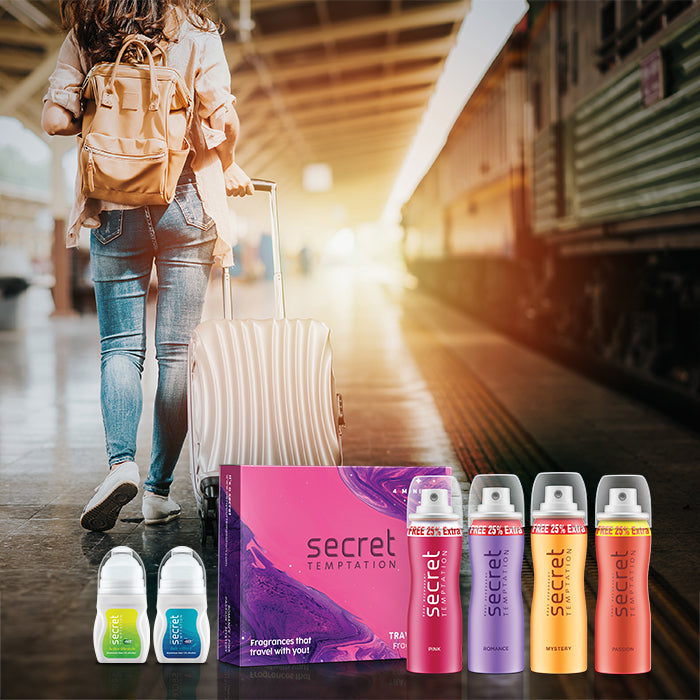 Oh, hello there, fellow traveller! Let us tell you one thing, a well-stocked travel essentials kit can be the difference between a fabulous journey and a disastrous one. Remember to pack the magic of perfumes for women before your trip! They are your double-duty agents - they keep you confident and energized, enhancing your experience as you soak in new places.
So, let's dive in and talk about the best body deodorant spray for women to include in your travel essentials kit. No matter where you go, you deserve to feel fresh and fabulous!
#1 Pink, Romance, Mystery, and Passion Deodorant, Pack of 4 (50ml each)
Are you tired of packing multiple fragrances for your vacation? Well, the struggle is over! 
Meet Passion, Romance, Mystery, and Pink - your travel besties in a compact travel-size pack. Whether exploring a new city or hitting the beach, these fragrances will instantly refresh you and prepare you for every travel vibe.
Passion deodorant: is a fragrance that invites you to twirl your day away with its sweet, juicy scent. But be warned; its captivating fragrance may cause uncontrollable dancing!
Mystery deodorant: the secret weapon for stealing attention at every party. Its enchanting blend of violet, black currant, and tuberose notes will work magic and glam you up!
Pink deodorant: The divine freshness you need to tackle the day. Its light, floral scent invigorates your senses and brings forth sudden bursts of energy. 
Romance deodorant:  Its long-lasting, refreshing fragrance will keep you confident about spontaneous adventures! The possibilities are endless when you are wearing this one. 
#2 Secret Talc Effect Roll-on
Don't let your dark underarms dampen your travel vibes! Picture this: you're strutting around town in your favourite tank top, feeling confident and carefree, without a care in the world except for those pesky underarm stains. This is where we step in! Our Secret Temptation Talc Effect Roll-on provides 48-hour protection against sweat bacteria while whitening and moisturizing your delicate skin. Plus, it's gentle enough for those who like to wax or shave. So, rock that sleeveless dress like your boss, babe, without worrying!
#3 Secret Active Lifestyle Roll-on
With Secret Active Lifestyle Roll-on, you can say goodbye to sweaty and irritated underarms. This little lifesaver offers deep moisturization and anti-sweat bacteria capabilities for up to 48 hours of sweat and odour-free protection. It's nonsticky and stain-free on clothes. Plus, it's alcohol-free and contains no aluminium, making it perfect for sensitive, waxed, or shaved skin. With Secret Active Lifestyle Roll-on, you can confidently raise your arms and take on any adventure.
These travel-size deodorants are a charming addition to your bag, ready to accompany you and enhance your fragrant journey. Whether you're globe-trotting or simply living life to the fullest, these roll-ons and deodorants for women are perfect for quick touch-ups and keeping you smelling delightful. Indulge in the scintillating scents of travel-size essentials by Secret Temptation and make your adventures unforgettable!