Roll On to Rock On: Meet the Fab Four Perfumes for Women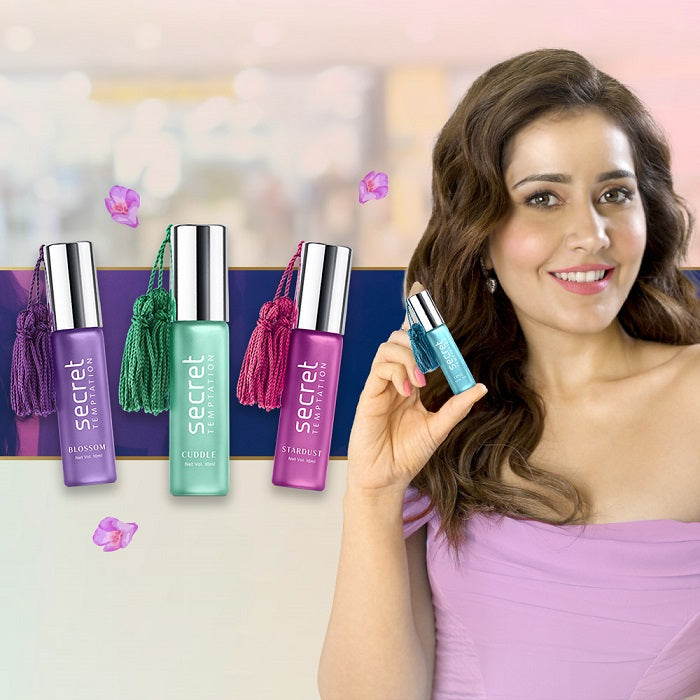 Hello, scent-sational women!
Life is like a wild rollercoaster ride. You wake up feeling like a million bucks, ready to conquer the world. But by noon, you're in a slump, feeling less than spectacular. And let's face it, her highness' moods can change faster than a bullet train! That's why it's super important to have roll-on perfumes that uplift you on the go. 
Thankfully, Secret Temptations has got you covered! We have been burning the midnight oil and researching the perfect fragrance combinations to create something magical. 
Tada! Meet four alluring roll-on for women who demand nothing but the best. Whether you want to feel confident, sensual, creative or a party diva, we have your back, bestie!
Here's the best part: Our super cute Stardust, Cuddle, Blossom and Love Perfume Roll On Pack with a tassel top comes in a purse-friendly size. You can easily carry them wherever life takes you. It will soon become your favourite clutch-essential. So without further ado, let's get to know our roll-on perfumes better, shall we?
Stardust
Imagine yourself at a glamorous social gathering, where you're the centre of attention and making a statement from the moment you walk in. That's precisely what Stardust by Secret Temptations can do for you. This fruity yet sophisticated fragrance is like a magical elixir that will captivate everyone around you. It will envelop you with the fruity freshness of peach, pear and black currant - an irresistible fusion. With Stardust by your side, whether attending your bestie's wedding or a lavish gala, you'll be the talk of the town! 
Top notes - Peach, Pear, Black Currant
Cuddle 
When you are the queen at work, a force to be reckoned with, you need a fragrance that matches your fierce energy! Say hello to Cuddle by Secret Temptations. With its tantalizing blend of green, orange, lily of the valley, and bergamot, this roll-on is the secret weapon to elevate your confidence and unleash your sparkling personality. 
Whether you deliver a presentation or clinch a deal with investors, a touch of Cuddle will set you apart. Its versatile fragrance works perfectly for casual and formal settings - own the room no matter where you are. Don't settle for a perfume that doesn't match your boss babe persona. Let Cuddle help you conquer the day with unstoppable confidence and show everyone who's the boss!  
Top notes - Green notes, Orange, Lily of the Valley, Bergamot
Blossom 
This roll-on perfume is not just a fragrance. It's a weapon of mass seduction. It says, "I am confident, I am beautiful, and I am irresistible." So whether it's a first date or an anniversary, Blossom is your go-to fragrance that will leave a lasting impression on someone special. It embraces you with refreshing citrus notes and subtle hints of sandalwood, adding an aura of mystery and intrigue. From now on, be ready to be unforgettable!
Top notes - Citrus, Green
Love
Get ready to sparkle, to shine, and let your free spirit align with Love by Secret Temptations. It's a fragrance that embodies your optimistic nature. Love opens with a fresh and zesty citrus top note, and the combination of green, hyacinth, and neroli unleashes its charm. It's breezy and undeniably attractive, with a mood-enhancing aroma that keeps you feeling fresh and energized all day! As you make your grand entrance, the irresistible effect of Love roll-on perfume will stay with you throughout the night. Indulge in Love and get ready to own the party scene till the sun is up!
Top notes - Citrus, Green, Hyacinth, Neroli
The four roll-on for women by Secret Temptation are like mini wonders that feel like a much-needed escape to get introduced to a fantastic feel. With packaging so cute, you'll want to take them everywhere! So why wait? Add some of them to your every day and bask in compliments. Let them guess what you're wearing because it's our little (literally) secret!