Secret Fragrances to Complete your Dandiya Nights Look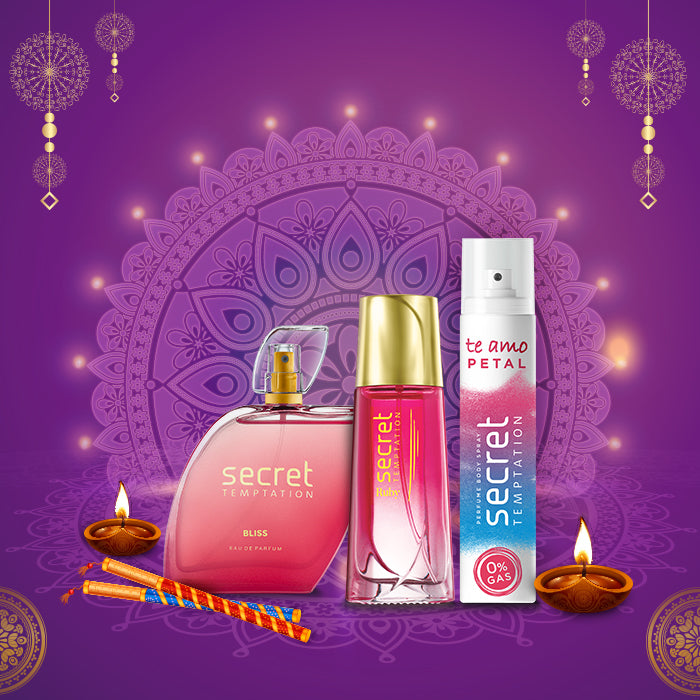 The festivities are knocking, and it's time to gear up with full enthusiasm to participate in the ever-graceful and exciting dandiya nights. It's a 9-day celebration followed by Dussehra. The fun and liveliness of this festival with bright and colourful attires are enough to make you groove to the latest dance numbers. While you deck up to set in the right festive vibe, it is essential to have rich, exciting, and enchanting fragrances by your side. If you haven't found the right one yet, worry not, as we have got your back!
You take care of the festivities, and we will take care of the fragrances you need.
We bring you 5 Secret Temptation fragrances to get you going during the busy yet enthralling season of the year.
Secret Temptation Bliss Perfume
An unforgettable, charming perfume for women, it is blissful in its true regard. Exuding a mellow and refreshing fragrance, it invigorates the senses. Made with soothing notes, it will cheer you up in no time. This long-lasting perfume will keep you going during fun-filled, colourful, and full-of-life dandiya nights.
Secret Temptation Ruby Perfume
Be the centre of everyone's attention with this warm and sensual body spray for women. This long-lasting fragrance is made with a combination of aromatic amber and musk with luscious fruity notes. This classy and distinctive fragrance is an excellent choice for an impromptu after-office pandal-hopping kinda night.
Secret Temptation Petal Body Perfume
This no-gas body spray for women has enchanting and refreshing white floral notes paired with honey, citrus, and patchouli. With its long-lasting freshness, you can dance to your heart's content during dandiya nights.
Secret Temptation Romance and Adore Perfume Gift Set
This pack of two absolutely stunning fragrances is a must-have during the festive season. While Romance has the freshness of citrus with classic notes of jasmine and muguet, Adore carries a floral blend of apple blossom, lily, and white flowers. Isn't that a perfect combo? This pick can make up for an ideal Dussehra gift, too.
Secret Temptation Mini Perfume Gift (Pack of 4)
Gifting is an inevitable part of festivities, and what better way to express your love and concern than fragrances? Made up of four exciting fragrances – Bliss, Romance, Dream, and Adore, this mini perfume gift set has been curated for special occasions. Get your hands on this perfect Dussehra gift and make her feel special and celebrated during this festive season.
These engaging Secret Temptation fragrances are sure to keep you fresh and excited for the vibrant dandiya nights. Brace yourself for the best days of the year and dive straight into festivities with these thrilling and refreshing perfume for women by your side.