Three Perfumes, One Cheer Collection: Ruby, Daisy & Jazz Fragrances for Women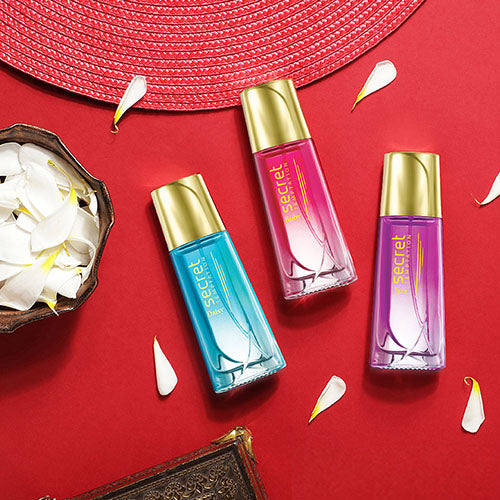 What if you could find the perfumes of your dreams in a single box? Nope, we are not kidding! Brace yourself for the Secret Temptation Cheer collection pack, where you'll find not one, not two, but three scent-sational perfumes for women that will make you feel like a goddess. Encased in an #AestheticGoals box, these fragrances await flaunting. If you're always on the move and want no compromises in smelling your absolute best, these perfume vials are perfect. Their sleek designs are effortlessly portable. Pop one into your pocket or slip it into your purse- it's entirely up to you. If you want to pamper yourself with some self-care or make someone's day, this is a gem of a gifting option in personal grooming care products for women.
What's in the Cheer Collection?
When you open the lid, you will find Daisy, Ruby, and Jazz perfumes (30 ml each). Each bottle boasts a signature scent ready to sink your senses into the dreamy worlds they create. 
Daisy Perfume: 
The fragrance will make you feel like you are walking in a field of flowers from the movies. Its fruity scent is perfect for anyone who wants to start the day with a spring in their step. Infused with a unique blend of sweet and citrusy notes, you can wear it daily, no matter the occasion, to make you feel fresh, energized, and ready to take on the day. 
Top note - Floral, fruity, vanilla
Ruby Perfume:
Secret Temptations Ruby perfume is your reliable bestie when it's time to glam up for a party. Its sensual and warm amber scent will make you feel like a million bucks. With every spritz, you'll feel confident and unstoppable -feel the urge to be spontaneous and rule the dance floor. 
Top note - Orange blossom, bermagot
Jazz perfume :
Jazz is the ultimate fragrance for romantic evenings or fancy dinner parties. This scent blends floral and earthy notes to create an unforgettable scent that will make you feel like a true connoisseur. With Jazz, you'll exude elegance and class wherever the night takes you - from sundown till sun up. 
Top note - Madagascar Ginger Oil, Orange, bermagot
Directions to apply: 
To ensure you get the most out of your Secret Temptation Cheer gift pack, including perfumes for women, it's good to follow these directions.
- Keep the spray nozzle 3-6 inches away from the skin while applying.
- Target pulse points such as the inner wrists and neck.
- Reapply as necessary to enjoy your favourite scent all day long.
Regarding personal grooming care products for women, the Secret Temptation Cheer Collection is perfect for anyone who is experimental and loves to indulge in fragrances. Whether you're looking for a pick-me-up for everyday wear or something special for a fancy occasion, this pack has your back! So what are you waiting for? Go ahead, keep smelling fabulous no matter where life takes you.
Order your Secret Temptation Cheer gift pack today: Secret Temptation Cheer Collection.