This Valentine's Day, Spritzing Scent will be Spreading Love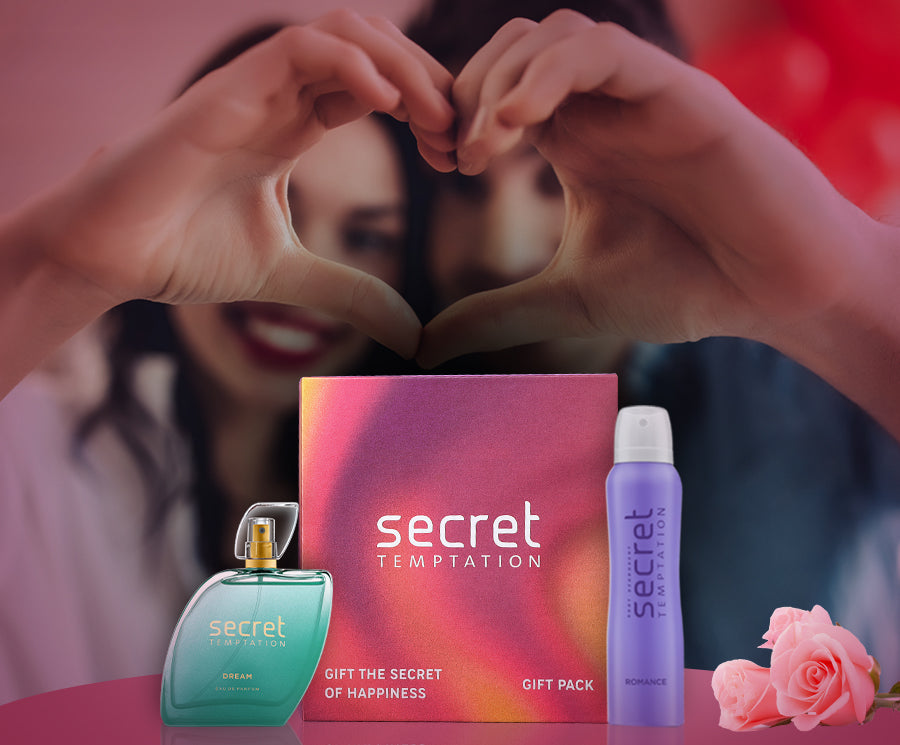 Saying that a breeze of refreshing scent can elevate your mood would be an understatement. It actually feels like a quick therapy that revitalises us! So, what could be a better gift than a box full of soothing and tempting fragrances? Secret Temptation brings to you a collection of Valentine's gift for her in this season of love. From a pack of two to a pack of three, including deos, perfumes, and roll-ons, this Valentine's gift collection has it all that you could ask for in fragrances.
These carefully curated combos also have a lovely message inside for the receiver which makes it extra special. Check these out now!
1. Valentine's Day Gift Hamper with Romance and Adore Perfume, Pack of 2 (50ml each)
A pack of two amazing fragrances, this gift hamper is like a dream gift for her. If she is someone who loves to extend her perfume closet with selected scents then this combo will be your ideal pick. While Adore Perfume accords with your party looks, Romance Perfume best complements your everyday look. With this combo she'll have both, one for her daily go-to fragrance and another for her special occasions.
Shop now: https://secrettemptation.in/products/romance-and-adore-perfume-pack-of-2
2. Valentine's Day Gift Hamper with Te Amo Pearl 120ml and Romance Perfume 50ml
A pack of one perfume and one deodorant, this gift hamper is a thoughtful combination. If your girl knows the knack of picking a deodorant or a perfume according to the situation then this pack gift hamper will be an ideal pick for her. While Romance Perfume can be used for every time you step out of your home whether it's office or the grocery store, Te Amo Pearl Deodorant can be used to supress body odour with a long-lasting fragrance.
Shop now: https://secrettemptation.in/products/valentines-day-gift-hamper-with-te-amo-pearl-120ml-and-romance-perfume-50ml
3. Valentine's Day Gift Hamper with Te Amo Dazzle, Petal and Sparkle No Gas Deodorants (120ml each)
This Valentine's special gift hamper is power-packed with long-lasting fragrances. Including the top three no-gas deodorants from the Te Amo collection – Dazzle, Petal, & Sparkle, this gift pack is the ultimate collection of deodorants for her. The Petal deo is a floral scent for everyday wear, the Sparkle deo is a floral & fruity scent for party wear, and Dazzle deo is an aromatic & woody for party wear. Moreover, what's better to gift on Valentine's than a fragrance collection that's inspired by love - The Te Amo (I love you in Spanish) collection!
Shop now: https://secrettemptation.in/products/valentines-day-gift-hamper-with-te-amo-dazzle-petal-and-sparkle-no-gas-deodorants-120ml-each
So, which one do you like the most? Pick a hamper that she would love to use no matter what's the occasion. See her eyes shine and her lips curl when you surprise her with the gift box by Secret Temptation. To explore more gift hampers, head to our Valentine's Day page where you will find more combos including perfumes, deodorants, and roll-ons.