Beauty Hacks that will help you survive Summer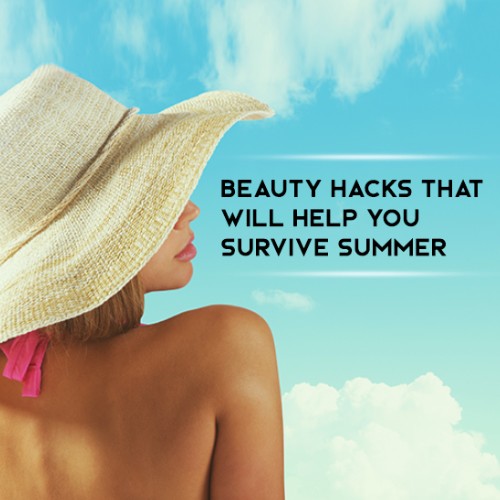 Summers are known to be a stressful, managing a healthy skin and hair is a task.  Heat rashes, dry skin and a number of other factors make your skin irritable on summer season. You can help keep your day's care free and easy going by learning a few hacks by Secret Temptation.
Masks
When you are outdoors the air is hot and humid you might have dry and irritated skin despite the humidity. You can apply hydrating  masks like a cucumber masks, which you could easily get from any store or make it yourself these masks are especially suited for replenishing dehydrated skin
Do not miss out on deodorant
Deodorants are an essential during summers but the question is which deodorant, you can check out a varied range of deodorants for women by Secret Temptations which have deodorants ranging from fruity to floral which have amazing fragrances which just leave you in awe.
Squeeze some aloe in the ice cube tray
You could squeeze some aloe ice cube whenever you need to soothe some skin rash or a troubled patch which is sunburned.
Use a dry shampoo
Use a dry shampoo to make your hair look fresh and fly. You can apply a dry shampoo in your hair strand the constant tossing and turning will help the application process more smooth and help to apply the product all over the hair. You will wake up with hair looking bouncy and gorgeous
Acne soother
Here is a superb acne hack for your skin during summers the breakouts are maximum and it gets irritating and hard to maintain the same. Squeeze some lemon in a spoon of baking soda and mix the paste, massage the paste into the skin and leave it for 5-10 mins and wash it off with cold water, while the baking soda helps in exfoliation this mix is a great summer time acne treatment.
Apple cider vinegar
Apple cider vinegar works wonder for hair and skin during summers, you can add apple cider to your bathing water it helps to heal the skin and also works wonders as a conditione
Raw potato
Best way to use raw potato is catecholase enzyme which reduces dark spots and blemishes also acne scars and also helps you get rid of tan. It has vitamin B6 which also helps in new cell formation and is a natural skin lightening agent.
You can also grate a raw potato and add lemon juice to it apply it on the face and let it dry for 15mins the mixture helps to exfoliate dry and patchy skin, the mix will gradually elevate pigmentation spots which is caused due to harmful sun exposure.